The current release (4.02r) includes a cloud backup option for your Enquiry Mate database and document, images, export and attachment files to our own cloud server. Upgrades to the ZIP process have enabled a progress display on the status bar and password protection on the backup files as an extra security precaution.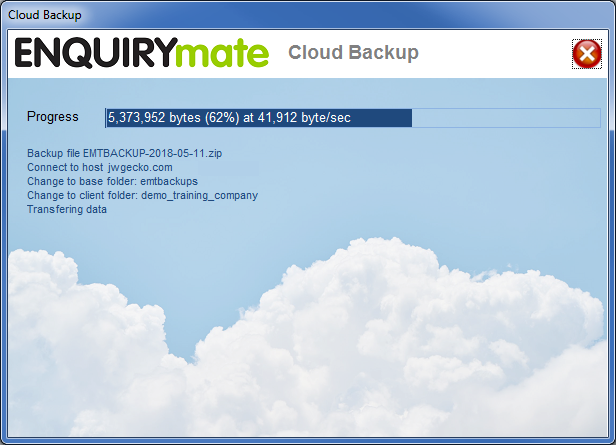 The basic backup service is provided at no extra charge, but has a limited storage allowance. How many backups this storage allowance will cover depends on the size of the database and files.
| | | |
| --- | --- | --- |
| Pricing Option | Free | Paid |
| Price | Free with renewal | $20/month+gst |
| Daily backups | Yes | Yes |
| Overnight processing | Yes | Yes |
| Storage Limit | 1GB | 10GB |
| Daily monitoring with email alerts | No | Yes |
| Weekly summary email | No | Yes |
| Recovery services | Hourly rate | 1 free recovery |
The fee is paid annually and prorated in the first year to align with your EM renewal date.
Here's a sample of the weekly report: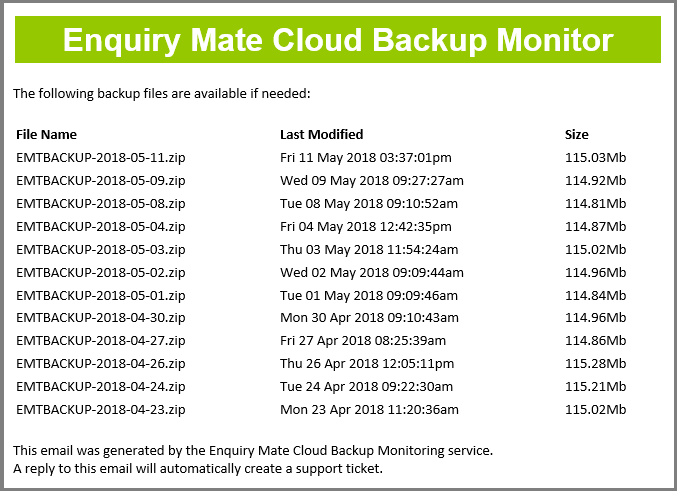 Even better is that the standard and cloud backup; and the start-of-day processing can now all be done in the early hours of the morning to save you waiting when you start your day! This option only requires you to have a computer running at that time, whether it's a 24/7 server or you just leave your desktop PC on overnight. We can set up Windows Task Manager to run Enquiry Mate in a special mode at a fixed time of the day (usually between 12am and 6am) on one or more days of the week, and it's all done by the time you get to work the next morning.